Posted on
February 10th, 2011
by crazymommy
There are many lovely Valentine's Day craft ideas out there in the blogosphere, but these caught my eyes because I think they are easy enough for the kids to make by themselves. I do think that Valentines should be made by the kids since they are the ones who are doing the valentine exchanges. We moms should just sit back and help only when needed.
1. Heart hand stamps
From Little Lovely via Blosesem Kids.

2. Lollipop Valentines
3. Beaded Heart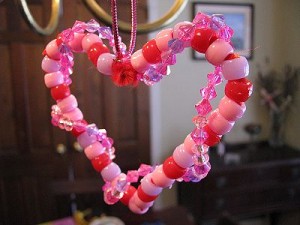 4. Cupcake Liner Valentine's Card

5. Valentine Cards
From Family Fun.
6. Hand prints heart